Mike Lowrie's monthly commentary and report on the real estate market in St Agnes, Fairview Park & Wynn Vale.
Market in St Agnes
With just 27 properties for sale in St Agnes, the suburb is well and truly a "sellers market" with such limited options available for buyers.
I'm also meeting lots of investors trying to enter the St Agnes market as it continues to outperform other suburbs in the attractive Tea Tree Gully council area for weekly rental prices.
Median Sale Prices & Trendline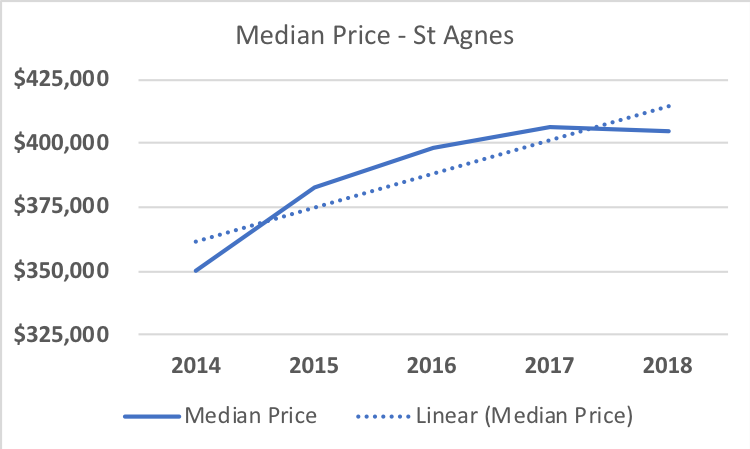 Market in Fairview Park
In 2017 the Fairview Park had a whopping 5% growth in value, with 60 homes and units sold representing a suburb turnover of 4.6%.
The strong growth was backed by high demand from families and diminishing availability of vacant land (just 1 land sale in 2017 compared to 15 in the prior 3 years).
I expect Fairview Park will see a fall in growth this year, 18 vacant lots have already sold and a rising number of homes for sale are making the marketplace more competitive.
First home buyers are in abundance currently, pushing fast 3 bedroom home sales.
Median Sale Prices & Trendline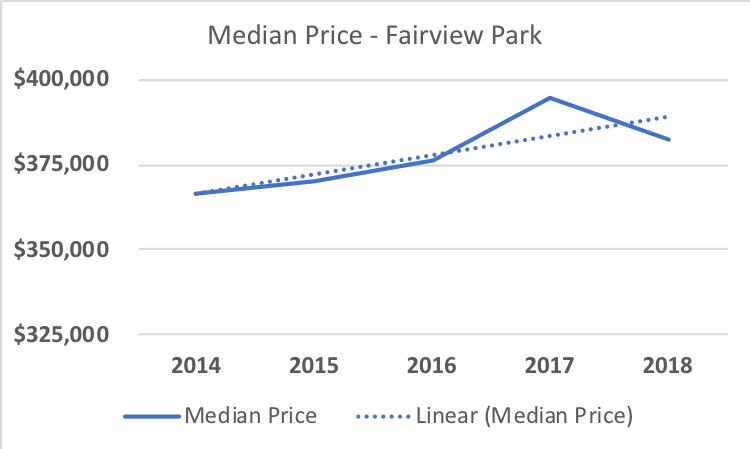 Market in Wynn Vale
A strong and consistent growth suburb, Wynn Vale has seen 16% growth in value in just 5 years, and is on track to continue this trend for the foreseeable future.
Of the 2,727 houses and units in the suburb, there are less than 30 properties on the market currently, giving buyers few options when it comes to purchasing, so open inspection attendances have been up at record numbers.
Median Sale Prices & Trendline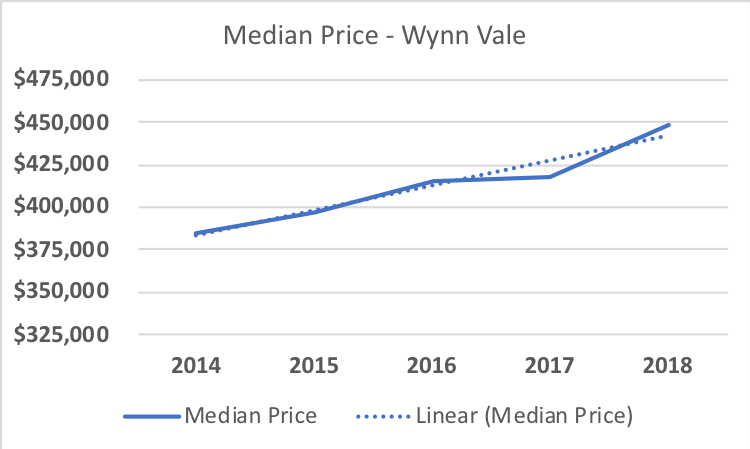 Finance & Economy
Banks are currently tightening lending as regulators are coming down hard on banks (partially related to the royal commission), and this is expected to have flow-on effects of slowing the market somewhat.
On the positive side, economists are predicting that the reserve bank's interest rate will remain at 1.5% for quite some time, so while lending may be slower, home owners can budget to keep repayments low.
South Australia's unemployment rate is at 5.6% (down from 6.2%), while nationally inflation is 1.9% (just shy of the 2% target rate).
Globally, economists believe the global economy is improving, with low market volatility and banks are well protected from crashes.
Overall, the economy is growing at 2.4%.