When you find yourself in the position of selling a residential property, whether it be a beloved family home or an investment property, finding the right agent to assist in getting the job done is the first and top priority.
Here are 3 essential tips on choosing the right agent to sell your property:
1.  Choose an agent most suited to your needs.
It makes sense to jump on board with the agent that has sold the most properties in the area, but this person won't necessarily be the right fit for your individual needs. As an example, your house might be a unique building with interesting architectural features requiring the expertise from a specific agent passionate about unusual architecture. This agent will have access to a database of equally passionate potential buyers willing to pay more for your property's uniqueness. Additionally an agent who is currently selling less amounts of homes at the time, is more likely to be able to devote more time and care to your specific needs, especially if something isn't going perfectly. You will want someone who is there for you when you need them to be, not just when they want to be.
2.  Trust your gut and not the false promises
When it sounds too good to be true – it almost always is. One of the biggest red flags to look out for is an agent who seems very eager to sign you up on the spot while offering a lower than average commission fee and/or promising a higher than statistical price. They usually offer or promise these numbers because they have to, to tempt your business.
Another is when an agent seems indifferent about the budget of your marketing campaign and the price you want to achieve as opposed to offering confident advice and suggestions. These may indicate that they're desperate and an agent who is desperate for your business probably isn't the best agent for the job.
3.  Who's giving you honest advice or just agreeing with you?
Being honest and trustworthy is the #1 reason consumers chose their agent, even outranking an agent's reputation or "market share". Being a "local agent" only accounted for 11% of the deciding factor to choose an agent, whilst working for a specific brand was only 3% of reasons why an agent was chosen.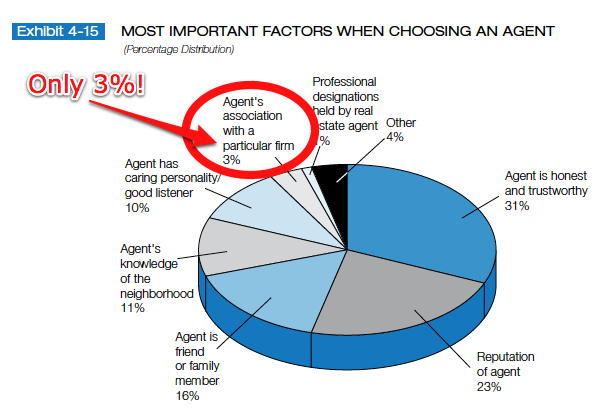 Overall, choosing an agent is about finding the right person who will represent you and your specific needs and it is recommended to interview at least 2-3 agents and not judge them based purely off their fee and price appraisal.